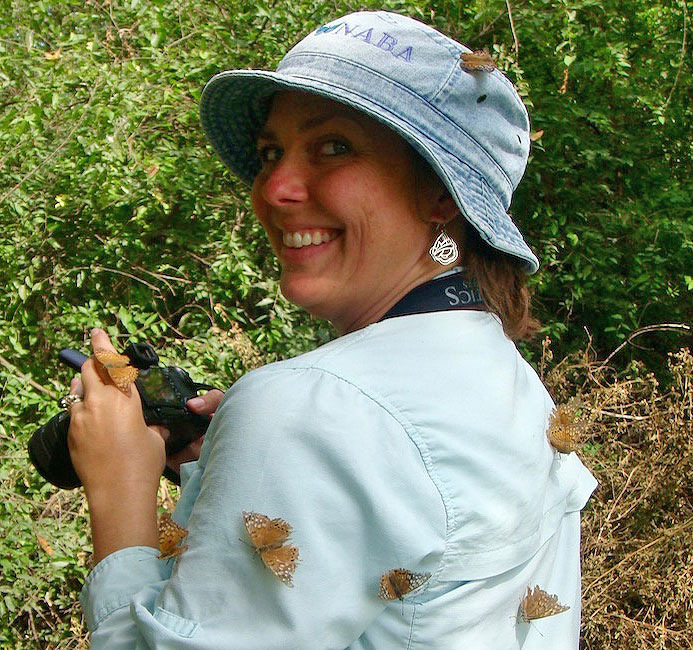 Alana Edwards
Alana has been passionate about butterflies since the mid-90's when she and her mom started butterfly gardening. Along with friend, Kathy Malone, they founded the first chapter of NABA in Florida in 1996. Alana has been very involved with NABA ever since, attending all of the biennial meetings except the very first one. Alana started leading tours for Sunstreak in 2000, and loves taking tour participants off the beaten path to find the rare and endangered butterflies of south Florida and the Keys. Alana obtained a master's in Environmental Science in 1998 – her thesis was on The Effect of Time-Since-Burn on Butterflies in a Pine Flatwoods. When Alana isn't chasing butterflies, she works as Education and Training Coordinator for FAU's Center for Environmental Studies. She lives in Delray Beach with her two fur children, felines Carmella and Niko.
Jeffrey Glassberg
Jeff is a director and president of the North American Butterfly Association. He has followed butterflies since he was 5 years old living on Long Island, New York. He detoured to take an undergraduate degree in civil engineering and a Ph.D. in molecular genetics, then worked at Stanford University and Rockefeller University. In 1981 he invented DNA fingerprinting and cofounded a biotechnology company (Lifecodes) that commercialized this technique. Jeff is a past-president of Xerces Society, the author of the Butterflies through Binoculars field guide series, the author of A Swift Guide to the Butterflies of North America, the editor of the through Binoculars series (including Caterpillars, Dragonflies and Wildflowers) and the author of Butterflies of North America (Barnes & Noble). His book A Swift Guide to the Butterflies of Mexico & Central America is the first complete guide to the butterflies of Mexico or to any Central or South American country. He graduated from the Columbia University School of Law in 1993 and is a member of the New York bar. He is also an Adjunct Professor of Biosciences at Rice University.
Andrew Neild
Andrew Neild is the author of Butterflies of Venezuela and has led numerous butterfly tours to Ecuador, to Venezuela, and to other countries in the Neotropics. Born in London, where he currently resides, he has lived throughout the world, including in Venezuela for a period of three years. He has been studying Neotropical butterflies for more than thirty years. Andrew is a Scientific Associate of the Natural History Museum in London.
Welcome to Sunstreak Tours. Butterflying at its best.
---
Meet our Butterfly Tour Leaders